By James Lee
Ten years ago, Greenwood Development Corporation began work on a new private community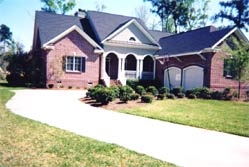 located in the heart of North Charleston. Coosaw Creek Country Club started out as a vision of "Southern Classic" style homes, offering a brief, easy commute, local shops and eateries and local schools that pride themselves on quality education. Today, this lush, upscale community has become the gem of the Charleston area, and with the recent completion of the final phase, it is home to 330 permanent residents on almost 650 acres of property, beautifully sprinkled with woodlands.
"When we started marketing this property, there was nothing like it in this area," said Cathy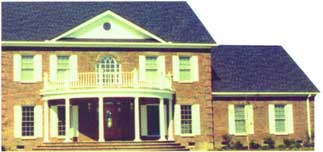 Anthony, Director of Marketing for Coosaw Creek. "In fact, there still isn't any local competition: You just don't see this level of commitment by other developers in the North Area."
Influenced by several other Greenwood Development properties located on Hilton Head Island, Coosaw Creek emanates a southern air of low-key living. The community boasts an 18-hole Arthur Hills golf course, a million-dollar plus junior Olympic complex, tennis courts, and play area in addition to the 10,000 square foot clubhouse, completed four years ago, which is the centerpiece of the community. The amenities keep resident entertained with all of the exercise, sports and social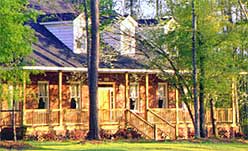 events reserved for the best in upscale living.
There is a true sense of community at Coosaw Creek, which includes exclusive events for residents, such as fashion shows, holiday hayrides, wine tasting and theme dinners at the club. Property owners find themselves part of a close gourp who are very involved in every aspect of community life.
Location is a major benefit of life at Coosaw Creek. Nestled off of Dorchester Road in North Charleston, the community is just a short drive from both I-26 and the Mark Clark Expressway, a quick 25 minutes from peninsular Charleston. The location makes travel anywhere easier than it has to be, with its proximity (15 minutes) to the Charleston International Airport. Folly Beach and the islands of East Cooper are an easy drive, leaving resident with limitless options for dining and entertainment, day or night.
The Gem of the Charleston Area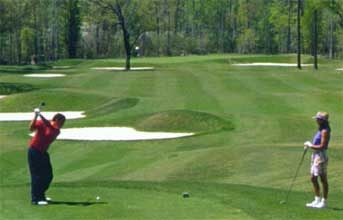 Greenwood Development is a shining star in southeastern living, and they have been responsible for bringing a level of community unmatched in today's stripped down, convenience oriented lifestyles. The company is responsible for communities such as The Reserve at Lake Keowee in Sunset, SC, Beresford Hall in Charleston, and Big Canoe in Atlanta.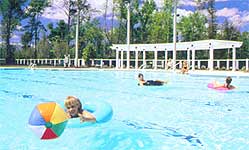 Greenwood Development is also responsible for Palmetto Dunes on Hilton Head Island, and they pride themselves on future projects, as they further the dream of comfortable yet affordable living.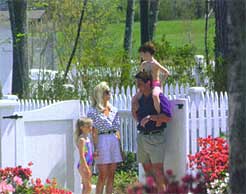 Coosaw Creek offers two price ranges, and they are broken down into Coosaw Creek proper (from the high $200,000's to over $600,000) and Forest Knoll (from the low $200,000's). The one constant in both areas is luxury. While Forest Knoll is a patio home neighborhood with smaller, low maintenance homes, the quality of life remains the same. Home sites are available in both areas with lots from $24,900 to $50,000 in Forest Knoll.
The future of Coosaw Creek looks very bright, with many new amenities and opportunities. Club memberships are now available for an initiation deposit of $12,000, making it one of the most affordable in the Charleston area. The fee is waived for those who buy homes or home sites from Greenwood Development. Once 350 golf memberships have been sold, the club will go private, although this number is not to be taken lightly. With nearly 300 already sold, membership is almost full.
* Reprinted from 2000 Summerville Newcomer's Directory.