Interior designers help owners get the most from their homes
By Karen Paggi
If you find yourself watching more home improvement shows to keep up with what's hot and what's not in home design, you're not alone. Home improvement shows go back to the 1980 debut of the Emmy Award-winning "This Old House" on Public Broadcasting Service network, and there seems to be no end in sight to their popularity. These how to home shows help homes become more marketable, or at the very least, help nestle homeowners in a more updated, comfortable home.
The romance people have with their homes is not a mystery. Home ownership translates as the most lucrative investment people can make, and just knowing that they can take a sledgehammer to the walls is icing on the cake. So if your goal is a beautiful abode for yourself, your family, or for a maximum return on your investment, but you have time restraints, are challenged in the designing arena or have made costly errors in the past, it may be time to investigate the not-so-intimidating world of interior designers.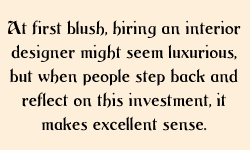 At first blush, hiring an interior designer might seem luxurious, but when people step back and reflect on this investment, it makes excellent sense. People pool a lot of money into their interior furnishings and in the interior architecture (the way things are laid out) of their home. And because they're investing a lot of money in their home, it's only sensible to consult a professional.
Interior designers can help people sort through information and help develop a budget based on priorities. As the old saying goes, "If you don't know where you're going, then you don't know where you're going to end up." Even if homeowners just hire a designer to help with space planning and figure out overall goals, a road map can be drafted. If clients are interested in purchasing furnishings, a lot of designers will sell products at a discount.
Below you will find our directory of interior designers, who are making dreams come true along the Carolina Coast, from Wilmington, N.C. to Hilton Head, S.C. While researching local business listings and the Departments of Revenue, we've compiled the following list of interior designers.
Many designers are members of The American Society of Interior Designers (ASID) which is a nonprofit professional society representing the interests of interior designers and the interior design community. These members must pass rigorous acceptance standards: they must have a combination of accredited design education and/or full-time work experience and pass a two-day accreditation examination administered by the National Council for Interior Design Qualification (NCIDQ). If you are interested in consulting with a local designer who is formally recognized by the American Society of Interior Designers, visit http://www.Interiors.org/Service.asp.
But before you hire, do your homework, and realize that it's important to check that final, intangible credential: chemistry. You should meet in person to be sure this professional is someone who appreciates your needs and goals.
Home Interior Design Directory
Charleston, SC Interior Designers | Wilmington, NC Interior Designers
Myrtle Beach, SC Interior Designers | Hilton Head, SC Interior Designers
Back to Top
Charleston, South Carolina

All Inclusive Decorative
Hardware, LLC
713 Nora Lane
Mt. Pleasant, SC 29464
(843) 814-5298

Lynn Benton Bagnall
2005 Palmetto Blvd.
Edisto Beach, SC 29438
(843) 869-3258

Sissy Bradham Interiors
3226 Maybank Hwy.
Johns Island, SC 29455
(843) 559-5073

Byer Artisans
3 Sundown Bend
Kiawah Island, SC 29455
(843) 768-3054

Carolina Fibers Inc.
3277 Johnstowne St.
Kiawah Island, SC 29455

Coastal Interior Design
3605 Meeting St. Rd.
North Charleston, SC 29405
(843) 744-3502

Tracy Cope Interior
Design and Consulting
3903 Lybrand St.
Edisto Beach, SC 29438
(843) 869-1988

Betty A. Crawford Interiors
Moncks Corner, SC 29461
(843) 761-6300

Dena's Home Décor
3282 Heaton Dr.
Ladson, SC 29456
(843) 875-5818

Designs by Peg
1 Beachwood E.
Sullivans Island, SC 29482
(843) 886-0611

The Design Company
1 King St., Ste. 104
Charleston, SC 29401
(843) 534-2445

Design Details
2041 Wappoo Dr., B
Charleston, SC 29412
(843) 406-8705

Divine Inspiration
4761 Hassell St.
North Charleston, SC 29405
(843) 747-4364

Margaret Donaldson Interiors
68 Gadsden St.
Charleston, SC 29401
(843) 722-2640

Ethan Allen
1821-A Sam Rittenberg Blvd.
Charleston, SC 29407
(843) 571-5557

Donna Fitzgerald Interiors
913 Watermelon Run
Charleston, SC 29412
(843) 762-0682

The Furniture Gallery
3714-C Betsy Kerrison
Johns Island, SC 29455
(843) 768-1001

Garris Fine Interiors
767 Coleman Blvd.
Mount Pleasant, SC 29464
(843) 856-4911

In Faux
2137 Wappoo Dr.
Charleston, SC 29412
(843) 442-8222

Innovative Interiors, LLC
Charleston, SC 29412
(843) 406-0199

Innovative Interiors
1173 Camden St.
North Charleston, SC 29405
(843) 747-4959

Interior Harmony
4828 Habersham Lane
Summerville, SC 29485
(843) 873-9174

Interiors by the
Partridge Shoppe
143 Jungle Rd.
Edisto Beach, SC 29438
(843) 869-3862

Intertect Design Consultants
912 Savannah Hwy.
Charleston, SC 29407
(843) 769-9990

Island Interiors
1001-A Landfall Way
Seabrook Island, SC 29455
(843) 243-0100

Carol A. Jackson
Interiors Inc.
P.O. Box 520
Mount Pleasant, SC 29465
(843) 884-0620

The Lollipop Tree
Mount Pleasant, SC 29464
(843) 216-6880

Miriam Jordan Interiors, Inc.
714 St. Andrews Blvd.
Charleston, SC 29407
(843) 763-5800

Ketchin Interiors
6 Kings St.
Charleston, SC 29401
(843) 577-5770

KM Interiors Inc.
P.O. Box 1445
Mount Pleasant, SC 29465
(843) 884-9378

Lucas and Associates
Interior Design
2041 Wappoo Dr., Ste. A
Charleston, SC 29412
(843) 795-1447

Maine Cottage
Charleston, SC 29412
(843) 345-6941

Mercy & Co. Interior Design
Charleston, SC 29407
(843) 763-2323

MQ Johnson
259 Cord Grass Ct.
Kiawah Island, SC 29455
(843) 768-7097

Nstyle Interiors
3361 Glenhaven Dr.
North Charleston, SC 29420
(843) 760-1765

Organize and Design
9544 Koester Rd.
Ladson, SC 29456
(843) 572-4820

Paulette's Interiors
8643 Doar Rd.
Awendaw, SC 29429
(843) 928-3020

Perrine Interiors
828 E. Relyea Ave.
Charleston, SC 29412
(843) 762-6108

Practical Interiors
1189 Lazy Lane
Mount Pleasant, SC 29464
(843) 849-1892

Elizabeth deRosset
Prioleau Interiors
6 Gillon St.
Charleston, SC 29401
(843) 577-7761

Jaycie Rappold Artist
6852 McCants
Wadmalaw, SC 29487
(843) 559-1834

J. Rhodes Interior Design Inc.
2041-A Wappoo Dr.
Charleston, SC 29412
(843) 795-9411

Riverside Designers, Ltd.
1233 Ben Sawyer Blvd.
Mount Pleasant, SC 29464
(843) 884-3361

Rochford Design Group
3627 Holmes Dr.
Johns Island, SC 29455
(843) 559-1115

Julie Rogers Designs
2235 Shoreline Dr.
Johns Island, SC 29455
(843) 557-1331

Southeastern Galleries
1885 Ashley River Rd.
Charleston, SC 29407
(843) 556-4663

Southern Accent Interiors
630 Coleman Blvd.
Mount Pleasant, SC 29464
(843) 884-0282

Sunnyside Designs Inc.
3407 River Rd.
Johns Island, SC 29455
(843) 559-0338

Walker Design Group Inc.
1204 New Parrish Way
Mount Pleasant, SC 29464
(843) 881-5606

Wallpapers Etc.
Mount Pleasant, SC 29464
(843) 884-0616

Zimmerman Interiors
1313 Woodlake Ct.
Mount Pleasant, SC 29464
(843) 971-6880
Charleston, SC Interior Designers | Wilmington, NC Interior Designers
Myrtle Beach, SC Interior Designers | Hilton Head, SC Interior Designers
Back to Top
Wilmington, North Carolina

A Decorating Problem Solver
Wilmington, NC 28401
(910) 452-9730

Allure Interior Design
Wilmington, NC 28401
(910) 763-0052

Ambiance Custom Interiors
PO Box 15229
Wilmington, NC 28408
(910) 799-4445

Appointments Ltd
Interior Design
Wilmington, NC 28401
(910) 762-5400

Art Shak
807 Howe St. N.
Southport, NC 28461
(910) 457-1757

Catherine Auten Interiors
5418 Oleander Dr.
Wilmington, NC 28403
(910) 799-9796

Belinda Bell Art & Accessories
5827 Oleander Dr.
Wilmington, NC 28403
(910) 790-9008

Bellagio Designs
5629 Oleander Dr., Ste. 100
Wilmington, NC 28403
(910) 395-5221

Jeri Bennett Interiors
Wilmington, NC 28401
(910) 383-3391

Big Sky Design Inc
4037 Masonboro Loop Rd., Apt. K2
Wilmington, NC 28409
(910) 793-3992

Blind Spot
5629 Oleander Dr., Ste. 100
Wilmington, NC 28403
(910) 395-5221

Blue Hand Home
1125 Military Cutoff Rd., Ste. P
Wilmington, NC 28405
(910) 509-0088

Melissa Brown Interior Design
Wilmington, NC 28403
(910) 256-3099

Christine Cannon Larrick Interiors
2017 Adams St.
Wilmington, NC 28401
(910) 762-7659

Classic Interiors Designs Inc.
4956 Long Beach Rd., SE., Ste. 6
Southport, NC 28461
(910) 457-4951

Cothran Harris Architecture
5725 Oleander Dr.
Wilmington, NC 28403
(910) 793-3433

Decorating Den
Wilmington, NC 28401
910-395-6565

Definitive Designs
Wilmington, NC 28401
(910) 799-0977

Design Associates
7232 Wrightsville Ave.
Wilmington, NC 28403
(910) 256-3452

Design Waves
Wilmington, NC 28401
(910) 772-2529

Dezign Solutions
6800 Wrightsville Ave., Ste. 3
Wilmington, NC 28403
(910) 256-5644

Distinctive Interiors
5226 S. College Rd., Ste. 6
Wilmington, NC 28412
(910) 392-5710

Drapery World Interiors
5908 Oleander Dr.
Wilmington, NC 28403
(910) 791-8732

Dynamic Kitchens
1815 Carolina Beach Rd.
Wilmington, NC 28401
(910) 763-9870

Elephant Ears
1900 Eastwood Rd., Ste. 44
Wilmington, NC 28403
(910) 256-2200

Flourishes Floral Arrangements
Wilmington, NC 28401
(910) 762-5400

Pat Flynn's Interiors
Wilmington, NC 28401
(910) 251-7655

Hillary's Import Furniture
1972 Eastwood Dr.
Wilmington, NC 28403
(910) 256-8336

Hughes Designs Inc.
PO Box 4699
Wilmington, NC 28406
(910) 798-2222

Interior Connection Inc.
914 S. Kerr Ave.
Wilmington, NC 28403
(910) 799-0822

Interior Connection Inc.
914 S. Kerr Ave.
Wilmington NC 28403
910) 799-3302

The Interior Tailor
619 N. Howe St.
Southport, NC 28461
(910) 457-4473

Interiors by Decorating Den
688 Cypress Ct.
Sunset Beach, NC 28468
(910) 575-6957

Interiors by Didi
2213 Moreland Dr.
Wilmington, NC 28405
(910) 256-6662

Interiors by Susan
Wilmington, NC 28401
(910) 799-5056

Island Classic Interiors
115 Causeway Dr.
Ocean Isle Beach, NC 28469
(910) 579-8477

Jackie's
6741 Beach Dr., SW. # C
Ocean Isle Beach, NC 28469
(910) 579-0907

Deborah Jamieson
and Associates Inc.
6950 Runningbrook Terrace
Wilmington, NC 28411
(910) 395-1818

Lorene Johnston Interior Design
3967 Market St.
Wilmington, NC 28403
(910) 763-5802

Rebecca Laymon Interiors
3115 Wrightsville Ave., Ste. H
Wilmington, NC 28403
(910) 343-4100

Elizabeth Lowe
Antiques & Interiors
726 Forest Hills Dr.
Wilmington, NC 28403
(910) 343-1009

Map Interiors
Wilmington, NC 28401
(910) 792-0009

McGowan Accents
3502 Wrightsville Ave., Ste. H
Wilmington, NC 28403
(910) 793-0049

McKenzie-Baker Interiors Inc
3502 Wrightsville Ave., Ste. H
Wilmington, NC 28403
(910) 392-0864

Melanie Bowe Interiors
3304 Wrightsville Ave.
Wilmington, NC 28403
(910) 392-1975

Elizabeth Messick Interiors
1113 Military Cutoff Rd., Ste. D
Wilmington, NC 28405
(910) 509-9598

Dawn Moffitt Design Inc.
8905 Mahogany Run
Wilmington, NC 28411
(910) 686-5460

Suzanne Collins Moss &
Associates Design Studio
1113 Military Cutoff Rd.
Wilmington, NC 28405
(910) 509-9596

Nancy Mullinix Interiors
6800 Wrightsville Ave.
Wilmington, NC 28403
(910) 256-2889

Murrow Furniture Galleries Inc
3514 S. College Rd.
Wilmington, NC 28412
(910) 799-4010

New Elements Gallery
216 N. Front St.
Wilmington, NC 28401
(910) 343-8997

O'Neal Design Associates
Wilmington, NC 28401
(910) 763-3525

The Office Showcase
1712 Dawson St.
Wilmington, NC 28403
(910) 343-0131

Marty Relan Interiors
Wilmington, NC 28405
(910) 256-0086

Shelby's Innovative Creations
6407 Beach Dr. SW.
Ocean Isle Beach, NC 28469
(910) 575-2080

Jo Tilghman Interior Design
1711 Chestnut St.
Wilmington, NC 28405
(910) 251-3610

Twisdale John Ltd
2725 Old Wrightsboro Rd.
Wilmington, NC 28405
(910) 762-9017

Tysinger Furniture Gallery
6508 Market St.
Wilmington, NC 28405
(910) 799-8137

WC Creations
602 N Howe St.
Southport, NC 28461
(910) 457-5559

T. Williamson Interiors
1319 Military Cutoff Rd.
Wilmington, NC 28405
(910) 256-3256

Atlantica Design
Wilmington, NC 28412
(910) 791-9772

Belinda Bell Art and Accessories
Wilmington, NC 28403
(910) 392-6013

Wookey Hole
6010 Oleander Dr.
Wilmington, NC 28403
(910) 790-5434

Jane Wright Interiors
7018 Airlie Oaks
Wilmington, NC 28403
(910) 256-3550
Charleston, SC Interior Designers | Wilmington, NC Interior Designers
Myrtle Beach, SC Interior Designers | Hilton Head, SC Interior Designers
Back to Top
Myrtle Beach, South Carolina

Black Swan Interiors
6613-C2 N. Kings Hwy.
Myrtle Beach, SC 29572
(843) 497-4774

B. Graham Interiors
5001 N. Kings Hwy., Ste. 11
Myrtle Beach, SC 29577
(843) 692-7844

Grand Designs
9650B N. Kings Hwy.
Myrtle Beach, SC 29572
(843) 497-5670

Interiors by Decorating Den
3799 Golf Ave.
Little River, SC 29566
(843) 399-0441

KHB Interiors
1455 Hwy. 17
Little River, SC 29566
(843) 249-4109

Mar-C's Interiors
1814 Hwy. 17 S.
North Myrtle Beach, SC 29582
(843) 361-0825

Sheila Morgan Interiors
9776 Kings Rd.
Myrtle Beach, SC 29577
(843) 449-6012

Perkins Design Concepts
1521 Hwy. 17 S., Ste. C
North Myrtle Beach, SC 29582
(843) 272-8070

Deborah Ratliff
171 F. Madison Dr.
North Myrtle Beach, SC 29582
(843) 241-2080

Marva Bell Williams Interior
Design, Inc.
4331 Fifth Ave.
Little River, SC 29566
(843) 602-1332
Charleston, SC Interior Designers | Wilmington, NC Interior Designers
Myrtle Beach, SC Interior Designers | Hilton Head, SC Interior Designers
Back to Top
Hilton Head, South Carolina

Art and Interiors
2 Gray Fox Lane
Hilton Head, SC 29926
(843) 816-5681

J. Banks Design Group Inc
1303 Main St.
Hilton Head, SC 29926
(843) 681-5122

Stasia Berk Interior Design
24 Cotesworth Pl.
Hilton Head, SC 29926
(843) 301-3385

By the Sea Designs
1 Durban Place
Hilton Head, SC 29926
(843) 682-2527

CL Designs
57 Widewater Rd.
Hilton Head Island, SC 29926
(843) 681-8531

Design Accents Inc
40 North Calibogue Cay
Hilton Head, SC 29928
(843) 363-2544

Design Plus Inc
45 Buck Point Rd.
Bluffton, SC 29910
(843) 757-6646

Design South
8 Pine Island Ct.
Hilton Head, SC 29928
(843) 671-5563

Designs by Judi Inc
9-B Hunter Rd.
Hilton Head, SC 29926
(843) 342-6050

Distinctive Designs of HHI, LL
38 Bridgetown Rd.
Hilton Head, SC 29928
(843) 341-2339

Dwellings
4 Indigo Run Dr., #3022
Hilton Head Island, SC 29926
(843) 682-3024

Golden Design
138 South Shore Dr.
Hilton Head, SC 29928
(843) 842-8308

Elizabeth Graves Interiors
19 Dunnagans Alley
Hilton Head, SC 29928
(843) 689-5357

Laura Graves Design
10 No Forest Beach Dr.
Hilton Head, SC 29928
(843) 785-3539

Beverly Hall Interior Design
18 Pope Ave.
Hilton Head, SC 29928
(843) 785-2227

House of Design
20 Capital Dr.
Hilton Head, SC 29926
(843) 342-2526

Interior Domain
16 Tall Pines Rd.
Hilton Head, SC 29926
(843) 682-2910

Interior Scapes LLC
1 Gammet St.
Hilton Head, SC 29928
(843) 295-8133

Island Interior Services Inc
115 Arrow Rd., Ste. B.
Hilton Head, SC 29928
(843) 842-6446

Miriam Jacob Interiors
32 West Beach Lagoon Rd.
Hilton Head, SC 29928
(843) 671-4217

Kelley Designs Inc
30 New Orleans Rd.
Hilton Head, SC 29928
(843) 785-6911

Kimberly Designs LLC
7 Wicklow Dr.
Hilton Head, SC 29928
(843) 341-2029

CL Designs
57 Widewater Rd.
Hilton Head Island, SC 29926
(843) 681-8531

Design Accents Inc
40 North Calibogue Cay
Hilton Head, SC 29928
(843) 363-2544

Design Plus Inc
45 Buck Point Rd.
Bluffton, SC 29910
(843) 757-6646

Art and Interiors
2 Gray Fox Lane
Hilton Head, SC 29926
(843) 816-5681

J. Banks Design Group Inc
1303 Main St.
Hilton Head, SC 29926
(843) 681-5122

Stasia Berk Interior Design
24 Cotesworth Pl.
Hilton Head, SC 29926
(843) 301-3385

By the Sea Designs
1 Durban Place
Hilton Head, SC 29926
(843) 682-2527

KSI Designs
4 Indigo Run Dr., #823
Hilton Head, SC 29926
(843) 681-4160

Lynes on Design
302 Watersedge
Hilton Head, SC 29928
(843) 785-2452

Moser Design Group
326 Browns Cove Rd.
Ridgeland, SC 29936
(843) 379-5630

Andrea Palmer Interior Design
20 Capital Dr.
Hilton Head, SC 29926
(843) 342-9900

Plantation Interiors Inc.
10 Target Rd.
Hilton Head, 29928
(843) 785-5261

River Interiors Inc.
13 Windy Cove Ct.
Hilton Head, SC 29926
(843) 671-4378

Sandcastle Interiors
23-A Shelter Cove Lane
Hilton Head, SC 29928
(843) 842-1370

Sarah's Comfort Design LLC
6 Oleander St.
Hilton Head, SC 29928
(843) 298-5522

Lynn Stevenson Interiors
4 Spotted Sandpiper Rd.
Hilton Head, SC 29928
(843) 363-2691

Ernie Stoney's Fashions
230 Buck Island Rd.
Bluffton, SC 29910
(843) 757-4658

Laura Tucker Designs LLC
918 Craven St.
Beaufort, SC 29902
(843) 524-2544

White Interiors Inc
1 Mathews Dr., Ste. 113
Hilton Head, SC 29928
(843) 682-2992

WMS Interiors Ltd.
21 Dillon Rd., Ste. A
Hilton Head, SC 29926
(843) 681-9300
Charleston, SC Interior Designers | Wilmington, NC Interior Designers
Myrtle Beach, SC Interior Designers | Hilton Head, SC Interior Designers
Back to Top